Hot Diving dive hostel 哈尼潛水 is away from the main tourist area close to the center of the island providing easy access to all dive sites.
A small boutique dive center and hostel catering mainly to local divers. Hot diving services includes both fun dives and training courses.
PADI courses offered include open water diver, advanced open water diver and nitrox.
You can rent anything scuba related from Hot diving including air tanks, gear & equipment. If you need showing around the local dive sites you can book a guided dive.
The hostel has dorm room or private rooms available. Accommodation is basic but clean & comfortable.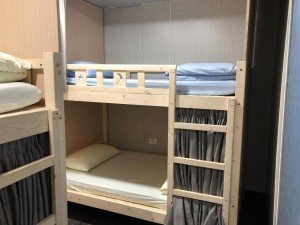 Boutique diving hostel aimed at local divers
1 ShanBan Road, Alley 16, Lane 53, Liuqiu Township,
Pingtung County, Taiwan 929
Phone: +886 905 985 055
Line ID:
Web: https://hotdivingliuqiu.com
https://www.facebook.com/HotDiving/
Contact:
Agency:

Brands:
Being located in Xiao LiuQiu, both boat diving and shore diving can be organized. Shore diving offers a great value for money and can provide an opportunity to get up close and personal with the green sea turtles common around the dive sites. Boat diving for advanced divers includes the chance to dive at any of the 3 wrecks located around the island.
Click here for more info about dive sites in Xiao LiuQiu.
Courses
Courses offered include:
PADI Open Water Diver
PADI Advanced Open Water Diver
PADI Enriched Air Diver
Gear rental / Air / Guided Shore or Boat Dives
For more information contact Hot Divers directly!