The Scuba Shop Taipei is located in the northern suburbs. They run a very professional service offering training courses, equipment purchase and rental, local fun dives as well as frequent trips to the southern diving sites.
They also run regular overseas trips to some of the hottest dive locations in the world.
To provide the best products and services, the Scuba Shop directly imports many brand name products which are usually not available at other outlets.
A youthful team always available and ready for a friendly chat, feel free to drop in and say Hi!
Located in the heart of the city
288 Tayou Road, Songshan District,
Taipei City, Taiwan 105
Phone: (02) 2762 4035
Web: http://scuba.com.tw/
Contact: James Lin 0974 183297 / Felix Huang 0953 030936
Agency: PADI
Brands: Halycon, Apeks, DUI, 4th Element, Suunto, Shearwater, Heinrichsweikamp, GoPro, Mares, Saekodive
During the summer months Fun Dives with the Scuba shop are very popular, often group sizes for weekend dives can be as large as 20 people.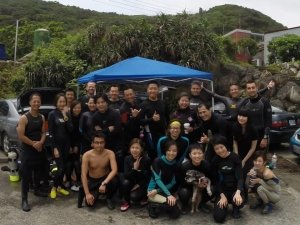 The Scuba Shop recently has changed focus more on providing PADI recreational dive training and certification, fun dives and trips to those interested in diving for fun, with technical diving moving with Phil Hsieh to Dark Tide.
This change brings a more vibrant, youthful feel to the store with a lot more young divers utilizing the store to fulfill their scuba diving needs. The original high quality training, instruction and professional attitude remains continuing to provide a good quality service.
Courses
Courses offered include:
PADI Open Water Diver
PADI Advanced Open Water Diver
PADI Rescue Diver and EFR (Emergency First Responder)
PADI Divermaster
PADI EANx Diver