The Scubar is located on Fulong beach, it offers diving courses in English to those interested in learning to scuba dive. As well as offering a friendly atmosphere where as an existing diver you can meet other divers and find some dive buddies to enjoy a fun dive.
You can rent anything scuba related from air tanks to a complete set of equipment. If you need showing around the local dive sites you can book a guided dive.
Even if you are not diving, come to the Scubar for food and drinks.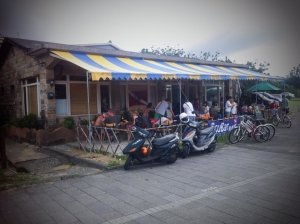 The Scubar is located right on the beach, so when you come to Fulong for a bike ride or some beach activities, drop in for a visit and have some barbecue food and drinks with your family and friends.
Located right on Fulong Beach
17 Dongxing Street, Gongliao District,
New Taipei City, Taiwan 22841
Phone: 0981 949 927
Web: http://facebook.com/ScubarFulong
Contact: Nigel Anderson
Agency:
Brands: Edge, HOG
The Scubar's closed water training is performed at the Taipei Song Shan Sports Center where Nigel is the resident scuba diving coach.
Nigel started scuba diving in 1996 in Canada and became an instructor in 2001. Since then he has taught diving in Canada, Australia, Indonesia, Thailand and Japan. He has been teaching scuba diving in Taiwan since 2011.
His goal is to improve the dives sites in Northern Taiwan by making them more accessible and safe to use, as well as help grow this sport in this country.
Nigel, must be doing something right, in a show of support he recently won the I love my PADIPro 2015 competition.
Courses
Courses offered include:
PADI Open Water Diver $16,000
($15,000 each for 2 people, $14,500 for 3, $14,000 for 4 or more)
PADI Advanced Open Water Diver $12,500
PADI Rescue Diver and EFR (Emergency First Responder) $16,500
PADI Divermaster $35,000
Gear rental – Full set $1000/day
Air – $150/tank.
Guide fee – $1200 per person for 2 dives, Groups are negotiable due to level / skill.
For more information contact Nigel directly at the Scubar!