Fun Divers Dive Center is located in Yong He City. They are Taipei's first foreigner run dive center. They were established and operated in July 2013 by Dennis Wong who is originally from Canada. They offer Padi diving training courses, fun dives as well as equipment sales.
They offer their expertise in both English and Chinese.
Dennis Wong is a vigilant instructor who pays close attention to details. He began diving in 1998 and fell in love with the ocean through scuba, he wanted to share this unbelievable underwater world to everyone interested. He has been working in the scuba diving industry in Taiwan since 2008, and eventually became a Padi instructor in April of 2013. Having completed his Master Scuba Diver Trainer credential in 2015; he was given an Elite Instructor award by Padi in 2016. By March of 2018, he will become an IDC Staff instructor; which enables him to assist candidates in becoming instructors.
Most of their course training is done at the Bat Cave; which is located on the northeast coast near Keelung City. They also run fun dive day trips to various dive sites along the northeast coast mostly on weekends, but can do weekday trips upon request. They offer equipment available to rent and return transport from Fun Divers Dive Center.
Fun Divers Dive Center, owned and operated by Dennis Wong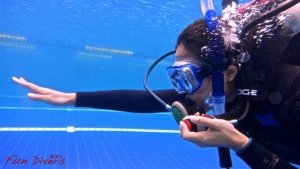 Fun Divers also regularly runs dive trips to Southern Taiwan including: Lamay Island, Kenting, Green Island, and Orchid Island. You can also inquire about their next overseas diving adventure.
Diving out of LongDong Bay
No. 8 Heping Street,
Yong He District, New Taipei City.
(6 minute walk from Dingxi Station)
新北市永和區和平街8號 (靠近頂溪捷運站)
Phone: +886 909 083 683
Web: http://fundiverstw.com
https://www.facebook.com/FunDiversTaiwan
Contact: Dennis Wong
Email: [email protected]
LINE: Fundiverstw
Agency:
Brands: Mares, Scubapro, Tusa, Saekodive, Gull, Suunto, Oceanic, Hollis, Beauchat, Dennis, Subgear, Loong Dive, IST, Aropec
Dennis started diving in 1998 and became an instructor in 2013, completed his MSDT in 2015 and will be completing his IDC staff course soon.
He has been working in the scuba diving industry in Taiwan since 2008.
Courses
Courses offered include:
PADI Discover Scuba Diving $<call>
PADI Open Water Diver $<call>
PADI Advanced Open Water Diver $<call>
PADI Rescue Diver $<call>
Emergency First Responder $<call>
PADI Divermaster $<call>
PADI Specialties:
PADI Enriched Air Nitrox $<call>
PADI Deep Diver $<call>
PADI Night Diver $<call>
PADI Peak Performance Buoyancy $<call>
PADI Search and Recovery $<call>
Fun Dives (2 Dives) $<call>
* Discount rates for group registration
* Because books are printed in Taiwan, Chinese students have a reduced price of $<call> for all courses, except for the Discover Scuba Diving program
Important Notes:
Equipment Rental and transport only included for the Discover Scuba Diving course
Full set equipment rental is $<call>/day
All excursions include tanks and weights
Return transport from Fun Divers is $<call>
For more information contact Dennis directly at Fun Divers Dive Center!