Steel reef is a man made reef created in 2010. Consisting of 4 rough pyramid shaped structures, covered in soft coral. It can only be reached by boat. For a beginner AOW it can be an interesting deep dive, for an advanced diver it does not have a great draw as it has a high nitrogen loading, and short dive time due to depth for little value.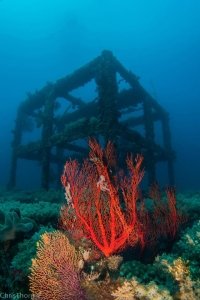 That's not to say it is a bad dive site, you will see 5 line snapper, bluefin trevally, batfish, clown trigger and other normal Taiwan reef fish.
It is suitable only for AOW and above divers due to the depth, the artificial reef is located in 30M depth water. The structures are 10M in height so divers are in open water from 0~20m. Boats will sometimes go here if other sites have high current/poor vis.
Access
Access by boat
Features
4 man made structures 10M tall, in 30M deep water. As open form divers can swim within the structure. Blue fin trevally often swim within the structure.
Common Species
Expect to see most of the common Taiwan reef fish. Sometimes you will see bluefin trevally, batfish, clown trigger fish.
Co-ordinates: Lat 22.63917; Lng 121.487419
Category: Boat
Type: Reef / Deep
Level: AOW
Ave depth: 25m
Max depth: 30m
Current: little
Visibility: 20m
Quality: So so
This map should not be used for navigation, and is provided for reference only
Dive Shops
If you are interested to dive this location, contact one of the scuba dive shops known to run dive at this location:
If you are a dive shop owner and frequent this dive site, drop us a message at [email protected] and we will add you to the list above.